*WARNING! SMALL SPOILERS AHEAD!*
2017 was an incredible year for both the big screen and the small screen. Yes, there were some disappointments (namely Justice League and The Defenders), that I had previously had high hopes for, but overall the quality was outstanding. Here's what I considered to be the crème de le crème of TV and Cinema last year…
Best TV Series
Winner: Game of Thrones (Season 7)
There was a lot of anticipation over this years series of Game of Thrones. With the season premiering in July instead of it's usual Spring-time release, fans had to wait longer than ever for their fantasy fix. Also for the first time, this new season consisted of just 7 episodes over the regular 10. Serious changes were happening as we begin to make strides towards the end of the story. As a book-reader, we'd long since passed the point where the novels had left off, so I had no idea what to expect this season.
What we got was constant balls to the wall. Every episode had some long anticipated moment of characters meeting or reuniting; Sansa/Arya, John/Daenerys, Hound/Mountain. There were no "filler" episodes this season.  Yes, there was a lot of time skipping, with characters seemingly traversing half of Westoros in the space of an episode, but I feel in most instances it was necessary to progress the story at a decent pace, so I've no issues with it. The action sequences were exhilarating, high budget affairs, my personal favourite being Daenerys dragon attack on the Lannister convoy leading to that utterly tense Jaimie/Drogon face off. I'd never been so divided on who I wanted to see survive.
Season 7 of Game of Thrones was so bold in its storytelling, it was always going to receive some flak. But it remains one of the most gripping series I've ever watched and I can't wait to see the fate of the characters I've come to love in the finale season. Which we've since learned won't be until 2019. And so my watch begins…
The Honourable Mentions:
Fargo (Season 3)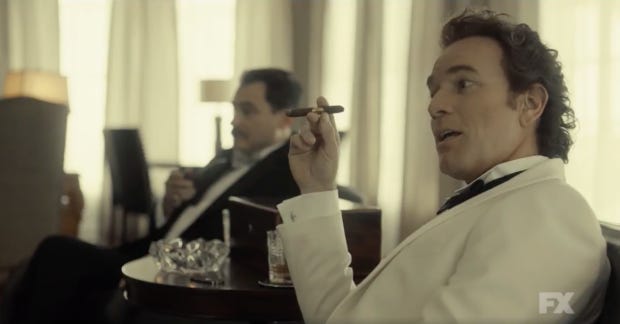 The underrated crime/drama with a dusting of black humour returned for another season that was mostly unrelated to previous years. A stellar performance from Ewan McGregor pulling double duty by simultaneously playing two very different brothers earned him a much deserved Golden Globe. As with previous seasons, by the end of the episode one you're sucked in and wondering why more people aren't talking about it. Tense, smart, funny with bursts of sporadic violence, it's Breaking Bad's goofy half-cousin with a Canadian accent.
Back Mirror (Season 4)
Released just in time to make the best of 2017 list, Charlie Brooker's futuristic take on the Twilight Zone makes its return. What we get here is more of the usual – standalone episodic instalments that warn of the perils of (mostly) near-future technology. But that's no bad thing. The ability for each episode to stand on its own is one of my favourite things about Black Mirror and as with previous seasons there are a couple of episodes that fall a little short of delivering their full impact, but the rest lift the series up the expected high standard.
Best Movie
Logan
Normally I'd be a little hesitant to put a Superhero movie as my favourite film of the year. It feels a bit tacky. It shouldn't though, the Superhero movie genre has long thrown off the image of being simplistic action-filled cash-ins, with The Dark Knight, Guardians of the Galaxy and Deadpool helping to redefine the genre. On top of this, Logan in itself is unlike any other in that genre. It's bleak, it's bitter and you know from the start you're dealing with a story that probably won't have a happy ending.
The film succeeds by being a story of hope, despite the aforementioned bleakness. We know from the start that this will be Hugh Jackman's Wolverine's last hurrah, (likely the same case with Patrick Stewart's portrayal of Charles Xavier). He's losing his powers, he's working a dead-end job to support Professor X, whom himself seems to be suffering from Alzheimer's-like episodes. From what we can gather, the rest of the X-Men are either dead or MIA. It seems a long way removed from the quip-filled, colourful Marvel Cinematic Universe.
All this makes us root for Wolverine perhaps more than any other comic book hero put to screen. His reluctant fostering of  young mutant Laura seems all the more sentimental. The two of them are very much the last of a dying breed. It could possibly be my favourite Superhero movie of all time, but it needs a second viewing but I'm not sure I'm willing to ride that emotional rollercoaster again just yet.
Honourable Mentions:
Dunkirk
Christopher Nolan's first foray into historical war film and refreshingly, not a flag-waving tail of patriotism. Instead it's the story of a rescue effort, told through three different viewpoints on land, sea and air. The allied forces are portrayed as vulnerable, stranded in retreat and although the axis are unusually absent from screen, we are under the constant tension that they are closing in on the defenceless British by the minute.
The Shape of Water
It's hard to describe this one. Retro-Monster-Horror-Romance-Fantasy-Drama? Regardless, I went in expecting a beautiful, weird movie with the typical high quality Del Toro monster mischief and that's exactly what I got. Without spoiling too much, the film tells the story of a woman who falls in love with what is essentially the creature from the black lagoon. Absurdly, it works – the characters are charming, the villains are utterly rotten and the world has a fairy tale-esque feel to it, despite being set in 1960's Baltimore. If you enjoyed Pan's Labyrinth, you'll adore this.